"In any organization, you have to embrace IoT connectivity, connected products and AI (artificial intelligence), or you are done," said Steve Liang, associate professor at Calgary University and the founder and CTO at SensorUp. Many experts have said about applying AI and IoT into the industry but how much do we realize and fully understand the potential of this new technology.
Perspective of IoT in oil and gas sectors:
In the current industry environment, with IoT technology oil and gas companies have to deal with huge amount of data receiving from any operation process. Data need to be stored, processed, analysis and can be accessed anytime anywhere in one integrated platform that provides engineers a better understanding and better informed solution in real time. Applications of IoT in the oil and gas sector are inevitable as they have great impact across all sectors of the industry. The upstream industry loses billions of dollars every year due to nonproductive time especially in production process related to equipment maintenance and work-over operations. Data from multiple sources could be used to predict deviations in productions and deliver possible actions. Reservoir data can be integrated with real-time field data to plan well placement, control flow rates, optimize processes and prevent accidents.
Connecting pipeline networks, sensors, gauges, equipment and interacting with problem seamlessly in real time that can reduce the risk of failure, leakage during transportation which is the main issue in midstream sector to deal with.
The downstream industry is also benefit from using IoT, monitoring the process in real time that means refineries can plan their shutdowns, minimize their downtime, and improve safety records.
IoT is the next step in the evolution of the oil and gas industry. Data will have to flow in real time and seamlessly from fields to control center. This will enable better decision making, better optimization of process, and a safer working environment. In oil and gas industry a single-digit percentage improvement through IoT will have a huge impact.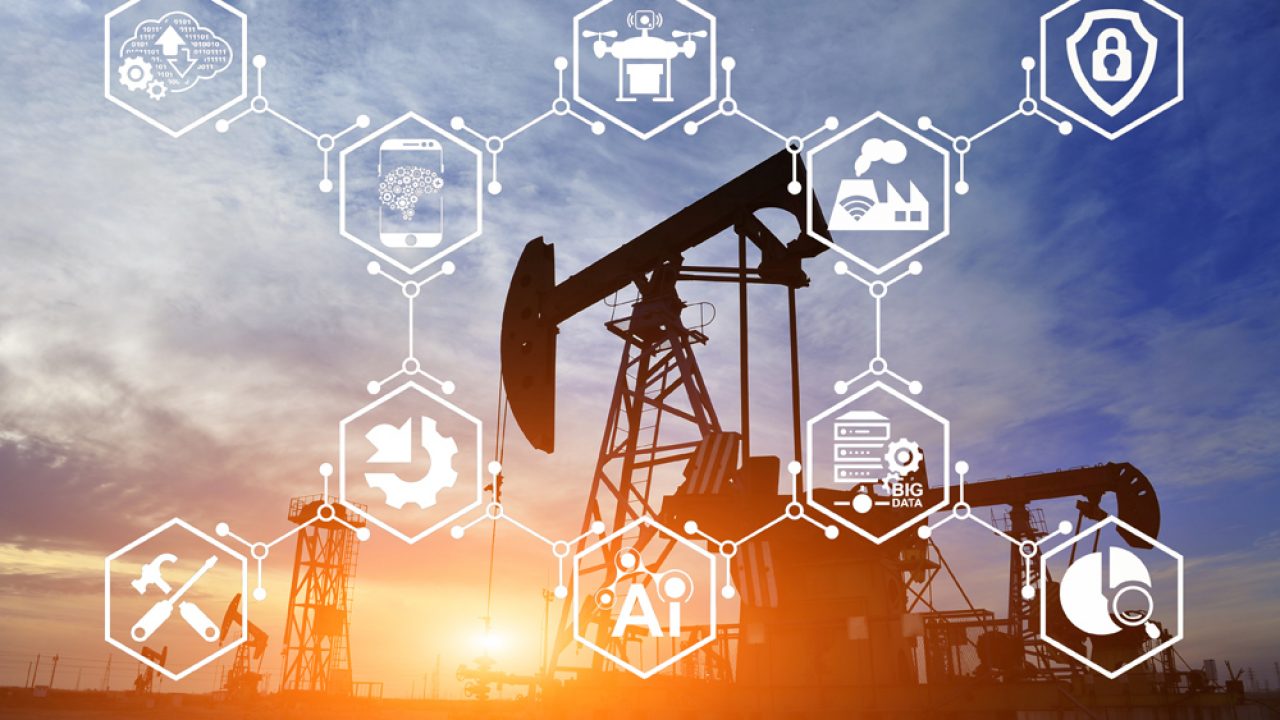 Here are some problems that have been solved by applying IoT
Managing the wells based on historic and real time data: by sorting and identify wells with similar performance and behaviors, including reservoir parameters, production profiles, productivity index… This helps to predict performance, reduce cost and time while improving production and profits.
Drill bit performance and optimization: Monitor, identify, and predict bit performance and trajectory to maximize production in real time, which depends on a number of parameters such as rock strength, fluid density, porosity etc… and act ahead of time.
Equipment monitoring such as pumps, compressors, and pipelines, effectiveness and productivity of these equipment could be enhanced by analyzing real time data, optimize their performance.
Analytics Powers the Internet of Things for Oil and Gas Industries:
Challenges of applying IoT in the industry
The key drivers in adoption of IoT are sensors, networks, storage, and big data analytics. With today's technology, more precise sensors are built, network, storage and advanced algorithms can handle a huge amount of data but there are still challenges, which are resulting in slow digital adoption cross the industry.
Conservative at management level
Oil and gas industry always has inertial in implementing new technology before the efficiency of it is well proven in other industry, there are always safety risks alongside with oil and gas operations mean that the people at management level do not want to change as long as thing are working just find and still making big profit even though not implementing any new technology improvement. Recent harsh industry environment puts the pressure of extensive changing cross the industry in unimaginable scale. Another factor that has been a driving force behind the industry's conservative is that the installation of smart devices need to be in an early phase of the field development, facilities and equipment are designed for continuous operation with minimal scheduled downtime, any major replacement will be costly and leads to unplanned downtime.
Lack of human resources and cooperation between data scientist and domain engineers
One of the challenge in enabling IoT to create most value for the industry facing many oil and gas companies is that finding right people who have advanced analytics knowledge and understand the science behind specific physical problem. Lack of cooperation between data scientist and domain engineers has also been a reason that the industry does not realize the full potential of digital solution.  With IoT data is in our hand and how do we get most values from it, sooner or later these two branches need to be combined and people who have both skill set will be the next generation of oil and gas industry.  In many expert opinion, in this current context domain engineers who don't know how to manipulate data, but they are the one who build out models of reservoir, conduct subsurface analysis etc… they understand the physics behind and has to be the person taking decision and deliver solutions for technical problems.
Conclusion
Digital transformation supported by data analytics and artificial intelligence can be the differentiator that allows the industry to persist in the next decades, in dealing with the digital world, professionals need to carry a set of particular skills, including computing upgrades; system maintenance; and data manipulation, including from exploratory data analysis and programming of surveillance rules.
Some places in our industry, however, exist where machines cannot replace the human touch. The future petroleum engineer, released from traditional regular tasks, would need to focus mostly on creative work.
The future hydrocarbon industry, enabled by digitization, analytics, and artificial intelligence, will demand more creative and innovative mindsets and skills able to absorb knowledge from multiple domains this could lead to a safer and more profitable industry with fewer working hours.
As the technological landscape of oil and gas evolves, large companies are collaborating on research development with smaller, outside companies. Innovation tends to take place more readily and more often in the hands of small organizations. This allows for the development of new technologies in smaller environments that are more willing to pursue new ideas and higher levels of risks when compared to industry giants. As innovative technologies gain traction, large companies are then able to inject capital into them and then provide testing sites for their deployment. This is an ideal ecosystem for technological development in the oil and gas industry.
In summation, it is just a matter of time the oil and gas industry will undergo full scale digital transformation, early adopters will stay ahead of the curve and be the most to gain.